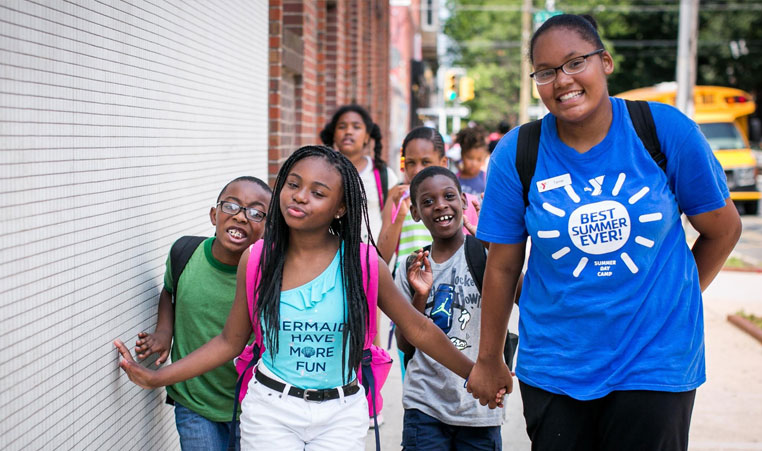 We're counting down to summer camp 2022! Start your planning with us today!
Learn, grow, stretch, and explore this summer at your local YMCA Summer Camp! Our day camp offers a variety of options to keep your young ones engaged during their months off. Traditional camp, sports camp, arts camp... and so much more. A summer of fun awaits at the Y!
Start here to plan your camper's summer adventure.  Find the location(s) closest to you to browse all available camps, discover more about camp, and register.
Camp Details
Who we serve:
Our summer camps are open to kids ages 4 to 14. We have over 19 camp locations including Camp Speers in the Poconos.
Camps are open to members and non-members of the Y. Members can take advantage of discounted pricing for camp weeks.
Types of Camps:
Traditional Camps are grouped by age and grade. Campers learn how to create new friendships and explore the natural world around them. Camp activities like art, music, nature, swimming, and sports are designed to build confidence, new skills, and untapped talent. Themes, special activities, and events make it a different adventure every week.
Leaders in Training Camp is a traditional camp option that is designed for teens who are ready and excited to gain camp leadership experience with groups and shadow key camp staff in a variety of programs. Excited teens will gain teamwork skills as they mentor children as young as 4 years old! 
Specialty Camps are focused on a specific theme, sport, art, or topic. Specialty camps offer ways for campers to immerse themselves in a hobby or sport they love or try something new. Surrounded by other campers with similar hobbies, your camper will make friends, grow, and learn each week.
Dragonfly Forest Day Camps are for campers with special needs and abilities. The camp's goal is to provide a transformative experience for all children by providing the structure and support needed to succeed in all facets of life. Camp will help to build self-confidence while instilling pride to give kids power and control over their futures.
Camp Speers is our day and overnight camp option located in the Poconos. You can find more information about Camp Speers on our website here: Camp Speers YMCA
Open House Events
We're hosting a handful of in-person and virtual open house events to help you prepare for the summer. During these events, you will get to know some of our camp leaders, learn more about summer 2022 and all of the safe fun we have planned, and get your questions answered. 
Have additional questions?
---
Are you interested in joining the Y? Learn more: